Info Select 6 - More Features
Some of the many new features in version 6 are listed below.
New help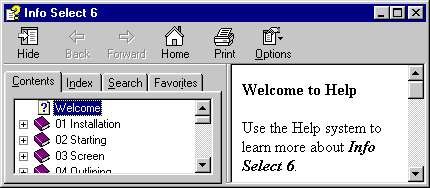 The Help documentation and format has been improved.
Skill level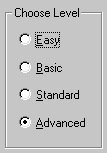 You can now configure Info Select for novice or advanced use. This is helpful when you need to show a co-worker or friend how to use Info Select. Simply set them up in Easy mode and they'll learn Info Select in minutes.
New keyboard shortcuts
You can move an item into a Topic in one keystroke - no need to first expand the destination Topic. You can use the Transporter by pressing CTRL+SHIFT+T instead of using the mouse.
Recycle bin
A new data type is provided that allows you to store archive information such as notes about a finished project.
Color keywords
You can automatically color all words that match a list of keywords you provide. For example, if you are doing research on former presidents you could copy text you find on the web into Notes, and then color all words matching president names.
Improved OLE
Many improvements have been made to the OLE capability that allows you to embed data, such as spreadsheets and images, from other applications into Info Select.
Improved undo
You can undo more commands to more levels.
Improved encryption
You can now invoke your PGP encryption software. You can also now encrypt individual items such as a single Note. And you can auto-encrypt and decrypt email.
Right justify
You can right-justify text for additional formatting flexibility.
Browse backwards and forwards
Just as you can browse backwards or forwards in a web browser, you can navigate data in Info Select. For example, if you are interrupted while editing a Note because you need to view an item elsewhere in the Selector, you can easily return to the original item you were editing.
Search closed files

You can now search closed files and password protected files. This makes it easy to find the information you need wherever your data is located.
Search the web cache

You can search your web cache. For example, you may have visited several web pages containing information pertinent to a project and you want to find those web pages by searching for text you saw on those pages.
Search by type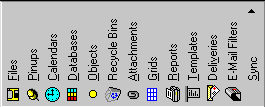 You can search for all items of a certain data type. For example you can search for all Files or all Grids.
Print preview

You can now preview printouts. You'll save time, paper, and toner.
Drag and drop items from Selector to the Calendar
You can drag items from the Selector into the Calendar to quickly link them.
Selector ticklers
A tickler can now be assigned directly to an item in the Selector. This method is faster than using the full Calendar feature.
Diary
You can keep diary entries for each day in the Calendar. This allows you to organize information directly on the Calendar without assigning a specific time or tickler.
External databases via ODBC
You can access any external database that is compatible with ODBC. For example, from Info Select you can view an Access, Paradox, Oracle, or Informix database.
Improved grid features
The Grid now allows full text formatting, a wide display area for editing the current cell, and multi-key sorting.
Improved dialer
There are several improvements to the dialer. The dialer logs your calls or modem activity, allowing you to track telephone numbers and telephone calls. The dialer also performs telephone time tracking, even when the dialer is not being used. These features allow you to track actual time spent on the telephone and on specific calls.
Reports
The Report feature is easier to use and requires fewer steps.
Enhanced data security

You can improve security of your data by saving to a .bak file in a second redundant directory.
Customizable menus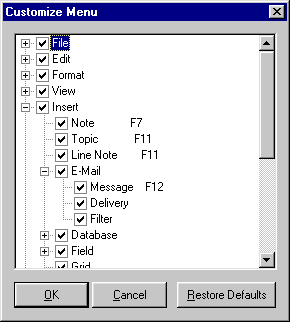 You can fully customize the menu. For example, if you want to prepare Info Select for a novice computer user you might want to reduce the menus to show only certain commands.
System tray
You can run Info Select from the System Tray in the bottom right section of the Windows screen.
Icon tips
Tool tips are displayed for every icon, telling you the function of each one.
Although the commands in Info Select are in English you can enter text in any foreign language.
Hundreds of improvements
Hundreds of smaller features have been enhanced.
Also, please see the newer Version 8.