Info Select 11 Overview
Info Select 11 is now available and includes numerous new features.
Info Select 11 is fully compatible with Windows 11, 10, 8, 7, Vista and XP.

Info Select 11 Features
Micro Logic is pleased to announce 
Info Select version 11
which includes a number of features  that will provide a noticeable enhancement to functionality. Major features of this release include:
It works much faster. It loads and saves data quickly, lets you browse through Selector items quickly.
The user interface is more friendly:
– Use shortcuts for better control of Selector view (Ctrl +1 to maximize, Ctrl +2 to minimize, Ctrl +3 to restore Selector view)
– New Calendar Ribbon Bar allows you to easily control Calendar View.
– Indication of filter condition in the Selector caption
– You can change the Color Theme to any color you like.

Ability to import Info Select backup file to Selector simplifies comparison data with original file.
Improved the user interface for Note for better navigation
– Enable Page Mode to emulate a printed page in the Workspace.
– Insert Bookmarks to navigate your documents faster.
Page breaks in Notes to force text to begin on a new page when printing.
Hidden portion of text in a Note – it can't be viewed or printed.
Insert a hyperlink to a file into a Note rather than attaching the file.
Enhanced Note formatting:
– Increase Lines and Paragraph spacing to improve readability or reduce it to fit more text on the page.
– Boxed font is one more way to highlight words in a text.
– Using check box create a checklist directly in a Note.
You can collect all e-mail addresses from selected topic into a separated collection and use it later for sending a newsletter.

Possibility to change encoding for unreadable received HTML e-mail if sender used an e-mail program that did not mark messages with a language encoding, or marked messages with an incorrect encoding setting.

New Stamp Note lets you insert contexts of a Note into other Note text or an e-mail with couple mouse clicks.
By popular demand we restored and improved the following features:
 

 Search for Duplicates lets you find
– all copies of any item in Selector
– all items that have a copy in Selector
Grid View for Database allows you to view all records simultaneously in the Workspace, supports sorting records by a column, copying part of a database to clipboard and other Grid features
Secondary Backup feature automatically makes a series of backup files to recover or rollback data in case of failures, accidental deletion of data, unwanted modification or other problem.
Scanner functionality lets you scan pictures directly to Info Select for storing, sending via e-mail or editing.
Ability to insert an OLE object into a Note.
Info Select 10 Features
Info Select 10 Features
New Toolbars … Ribbon toolbar – provides access to more buttons and provides better organization … Quick access bar – provides a secondary toolbar that can be customized for your most common commands … Floating minitoolbar – automatically displayed next to cursor, replacing context menu … Context toolbar – toolbar changes based on item selected.

Faster Searching – The main search capability is faster than prior versions.

Dockable pin-ups – Pinned up windows can be docked – this allows you to continue using the application without the pinned up window obstructing your view.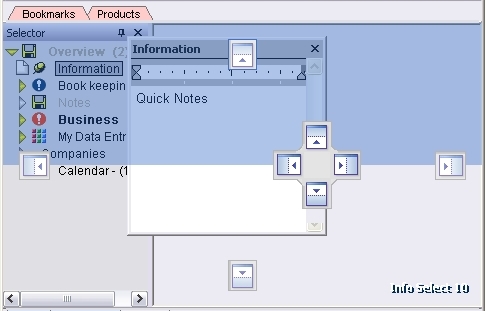 Dockable windows – allows one click access to selector items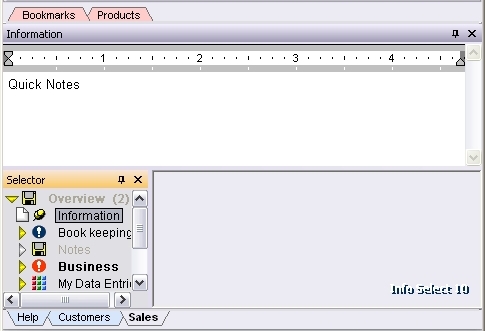 Floatable Selector, Folder panel, Context panel – allows to arrange major sections of the screen in a variety of ways, placing sections in any shape and configuration.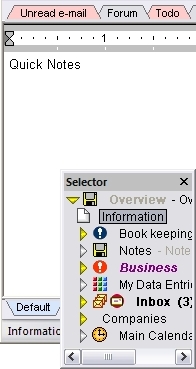 New Calendar – Improved interface, multi-day events, additional options, event categories, etc.
Tables in notes – allows to create grid type information inside notes.
Browse History – quickly jump to an item you recently used.
Multi-column notes – allows for more page layout options

More Wordprocessing Features – bullets, numbering, better indentation control

Improved change tracking – shows author of modification and modification time
Text boxes inside Notes – allows to annotate note text with small windows of text

Edit ruler – horizontal ruler in Notes for convenient text formatting

New email filter – allows to filter new email messages

Todo priorities – Allows to setup Low, Normal or High level for Todo's and to filter by priority.

Smart folders – Allows to filter items by type

Faster closing – The application closes much faster than prior versions.
Plus hundreds of minor improvements and corrections
By request of our customers to simplify Info Select, we have removed the following rarely used features: font search, closed file search, image scanning, inserting text in images, web based data, spreadsheet, generating DB from deliveries, ODBC, import / export (doc, xls, Outlook, Auto mode, HTML), thesaurus, palm sync, presentation mode, keyword auto-color, programmer edit mode, space mapper, compressed files, file archiving, replace by style color font, dialer, NNTP support, secondary backups, external files, intra-topic shortcuts, alt+n key shortcuts.
The following features are not currently implemented in version 10: foreign language spelling dictionary.